Twinkle carried out a smaller scale but worthwhile" neutering campaign during the week of March 17-21.
Using local vet clinic Bichos in Rosario, with the help of 2 regular lady volunteers from the UK and some very kind people living in Fuerte who also volunteered wherever help was needed, we managed to neuter 86 cats from 17-22 March. We hope we have given a brighter future to all the cats we were able to neuter and have stopped many kittens from being born into a life of starvation and suffering. Thank you so very much to everyone that lent a hand, volunteers are the faceless angels that help make things happen and a big thank you to those of you that donated something towards the neutering cost.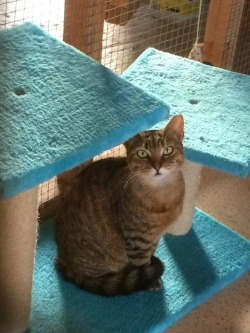 We have many cats that are in need of homes, because they were not safe to be released where we found them, including Whilomena, Charlotte and Flossie.
---
I'm "Biscuit".
Twinkle saw me when they were replenishing one of their cat cafes. I had a very runny nose, a high temperature and my eyes were streaming because I've got the 'flu' and I was feeling really sick. During Last December's neutering campaign Twinkle castrated me, Tracey who was helping on the neutering campaign looked after me until a man promised to take me home and look after me, but for some reason he took me to Caleta de Fuste and left me there. I knew if I waited long enough the Twinklers would find me and take me to the vets. I had lots of test's and everything was OK, I just need some medicine to help me recover from the 'flu' and TLC.
06 April 2014
---
Thanks to Janet Stewart we recently received €250 from her sponsored diet.
Well done Janet. Thank you to everyone that sponsored Janet.
---
Neutering Campaign
During December 2013, 18 volunteers came from the UK and Scotland to participate in our large scale stray cat neutering campaign. Plus we had the help of another 10 people that lived on the island.To help catch etc.
Barcelo Hotels and Turicomplex gave us the use of 6 apartments free of charge for some of the team to stay in, which was a fantastic help.
We admitted 412 cats and kittens. 192 males were castrated, 207 females were spayed, 13 cats/kittens were also seen by the vets for treatment and medication only. Here are the cats recovering from surgery.
In the last 12 months we have been able to neuter 360 females and 301 males., using the volunteer vets and the local vets in Fuerteventura. This is fantastic when you think that just 1 female and 1 male cat over a 7 year period if not neutered can have 3 litters a year with an average of 4 kittens born each time would result in over 370,000 offspring !
Dec 2014
---
Cat Cafes – Twinkle has 17 cafes in the resort of Caleta de Fuste. This means the homeless cats have some where to eat and have fresh water. Many are based in the grounds of hotels that work with Twinkle, the cafes help not only the cats but the hotels, it means the cats don't go looking into people's holiday accommodation for food. We need 70 kilos of dry food every week to keep the cat cafes stocked up. The cafes are cared for by kind volunteers that live in Fuerteventura, some cafes need maintaining once a week, others need attending to 3 times a week, depending on the number of cats that rely on the café. We are always in need of volunteers to help look after a cat café.
The work we do is incredibly hard , both emotionally and physically, although we were all exhausted the sense of purpose, achievement and team work kept our sprits high.
Below are just a few of the cats that we have been able to help in the last 12 months. Cats in for neutering or treatment and TLC.
Jan 2014
---
Donations can be made via our [Donate page] in any currency. If you live in Fuerteventura or Europe and could help Twinkle with a donation you can make a regular donation or a one-off amount to the Twinkle account detailed here.
Twinkles Bank Details: Account 0081-0695-57-0001158319
IBAN : ES16 0081 0695 5700 0115 8319 /BIC BSAB ESBB
---
Thank you to all those named below for donating some of the supplies we needed for our latest camapign which is mentioned above.
Vets Now - Various veterinary drugs to the value of £300
WorldWide Veterinary Services - 200 flea treatments
Henry Schein - Sterile operating gloves
Krouse - Sterile operating gloves
Hills Specialist in cat food- Large bag of a/d cat food
Protexin - Prokolin
Barcelo Hotels for 3 apartments free of charge for some of the volunteer team to stay in.
Turicomplex for 2 free apartments for some of the vet team to stay in during the campaign.
Dec 2013
---
Chica needs a home
Why doesn't anyone want me?
About 3 ½ years ago a rather dirty white and very skinny cat was carried into the garden at the house in Fuerteventura, this cat had been found at the bus stop only a few hundred metres down the road, people waiting for buses had heard a cat calling for a few days, but had never seen it until that day.
This cat was named Chica and placed into isolation and given food, at first she seemed to be fine, just hungry and bemused at her new surroundings. After a few days she was checked over by the vets and on her return she was placed into the foster pens to give her more room and that's when we found out she does not like to be forced into the company of other cats. Once she had settled she was allowed to go into the house, that was fine, but she proved to be a real escape artist, so she was allowed to roam in the garden, because of her pale colour initially this was during the shadier times of the day although she showed she has sense as she would find shade to lay in.
Due to the fact she is pure white a home was looked for and thankfully found in the UK (a wonderful home with some other Twinkle cats), where she would not have to suffer the intense sun and be at risk from skin cancer. The problem was that it meant choosing new friends for her again and that is just not Chica's way. Unfortunately despite many attempts to make it work, Chica did not settle and the hard decision was taken to place her in a foster home.
When Chica went to her foster home we all believed it would be for a couple of weeks, how wrong were we, 2 years and 3 months later Chica is 'still 'looking for a home.
Julie who is caring for Chica is doing a great job, but circumstances mean that Chica really needs to find a home to call her own - on her own and with outdoor access. Chica is very independent, she loves to do things her way and at her pace, but she also loves the company of people and to curl up in one of her favourite spots sometimes with you, sometimes in the next room and sometimes in your bed.
The ideal home for Chica would be 'without' other animals. Where she could have room to relax & explore until she was able to go outside (a garden is important for this little lady), not near busy roads or an area populated with lots of other cats, although she does pass the time of day with them, but she's not interested in playing with them.
If you would like to meet Chica please contact me anytime on 07773 500158 or email me at twinkletrust@btinternet.com . If you can't be Chica's forever home please pass this on to someone that you think could make her dreams come true.
Thank you for thinking of Chica.
---
Caleta Harbour Cat Cafe
Please don't be alarmed if you don't see the Cat Café at the harbour in Caleta, due to the renovation works taking place we have moved the Café, at the same time we have taken the opportunity to replace it with a new version.Thankfully the cats have found and like the new location which is adjacent to the Barceló Puerto Castillo apartments just before the roundabout
It costs us many Euro's to stock the Cafe's with food and as such we are always looking for volunteers to help with them, or welcome any donations to help keep them stocked,
Please click here if you could help
---
Donating items to Twinkle in Fuerteventura.
We are really pleased that anyone who wishes to donate any items to Twinkle can now drop them off in Caleta De Fuste.
Fuerte Crystals have kindly said they are happy to accept items on our behalf at their shop which is located at Urbanización Costa de Antigua, 35610 Castillo Caleta de Fuste.
Any toys, bedding , treats or food would be most appreciated, at the moment they are only able to accept smaller items, for larger items please contact us and we will arange collection.
( we frequently have small items that need to travel to Fuerte, if you have a couple of kilos baggage allowance free and would be happy to drop them off at Fuerte Crystal please contact us)
---