Donate to Twinkle Trust by clicking CharityCheckout
Every Penny Helps Us to Neuter or Treat a Homeless Cat
---
News and Events
We still have our Twinkle calendars for sale and ready to be posted,they are £9.50 each, this includes postage and packing.
They are professionally printed and have plenty of space to write on for each day.
To purchase one pay via the "Charity Checkout" link at the top of this page. When you enter you details please click the 'add message' box and send us your name and address and tell us your donation is for a calendar.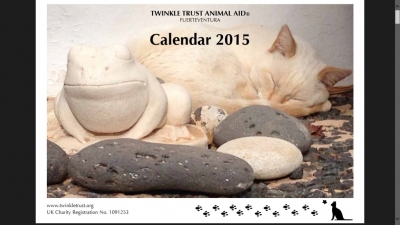 ---
Two very cold days - fundraising at Christmas Fayres over the weekend.13 & 14 December 2014
We had everything on offer from cat and dog hampers, painted pebbles, knitted cats and kittens, Twinkle calendars and plants.
Many,many thanks to the volunteers for all their hard work and to everyone for the huge amount of great items, many where hand made.Special thanks to Cath for getting this organised and up and running in aid of Twinkle.
---
The week of 19th November we carried out another large stray cat neutering campaign. Even though we are neutering or taking sick cats to the vets through out the year, there are always still more cats and kittens in need of help. Our campaign week was hectic, as always we were inundated with calls from people asking for help from all over the island. We had a list in excess of over 400 cats that needed help and we did our best to reach as many as possible, we travelled from Betancuria, La Oliva, Vellabron, Corralejo to Caleta de Fuste and everywhere else in between. It was just a small team of us, a few volunteer ladies flew out especially from the UK and some great Spanish and English island residents came to help as well, which was brilliant. The weather was the worst it could have been for catching and releasing, the island has never seen such heavy rain that went on for days at a time and the wind was so strong, it blew away anything not nailed down.
We managed to admit 295 cats to the vets during the week, with a further 13 that we took in because they were sick or injured. It was a challenging and emotional week but we know we have made a difference to so many feline lives and helped some very kind local people as well. Our work is heart-breaking when we see the conditions some cats have to try and survive in, one of our first places we went to help had 28 cats and kittens, they were all fighting over an old piece of goat bone that had no meat on it at all, these cats were starving and covered in fleas and ticks, now they are all neutered, parasite free and hopefully now their future will be a little bit easier. We also see 'the good' in many people, Its heart-warming to meet such kind people that have no money but manage to feed 30+ cats on very little and that care so much for the homeless cats.Again this is another spot where we managed to catch every single cat, so the future for this little group will be so much better. We fall in love with so many of the cats when we're out 'catching' them for neutering, all they are trying to do is 'survive' and stay 'safe'. If we all help, even just a little bit we can make such a MASSIVE difference. To all of you, that supported or participated with our campaign - THANK YOU - from all the voiceless cats and kittens of Fuerteventura.
At the end of our week we were left with 13 new cats and kittens that we could not return because they were either sick or unsafe. We've managed to find a great home for one of the kittens but that still leaves us with 12 new cats. We now have 75 cats and kittens, we can't give them all the love,cuddles and comforts of the home life they need. Please get in touch if you can help by adopting. We all need 'someones' help.
Dec 2014
---
We've just had some sad news from the vets. Our little Biscuit has been diagnosed with Lymphoma (cancer) after a biopsy of one of his lymph-nodes. Ever since we have known him, he has suffered from 'cat-flu' symptoms and his glands have be
en swollen. Biscuit is such a happy little cat and loves to charge through the cat flap at 100 miles and hour and to play "knock everything off the table". Of course now we will stop trying to find him a new home and he will stay with us.
Update Dec 2014:-
Biscuit has started weekly chemotherapy treatment, intravenous and tablet form.
So far he's not had any bad reactions and its doing OK. We're really hoping he can keep up his strength and zest for life and get better.
---
Twinkle Trust has been active in Sheffield for over 20 years and has been responsible for the rescue and rehoming of countless cats and kittens. The Sheffield branch is a small unit who specialises in taking on the cats who will struggle to find permanent homes due to disability or who are very frightened of people due to bad experiences with people.
Hannah
– she was rescued from a garden with 4 kittens. Hannah was very nervous as she had been living on the streets for some time. We managed to rehome all four kittens and kept Hannah and had her spayed.
Campbell
– was rescued from a family who used him as a football. Campbell was rehomed to a family with no children.
Smila
– was found running in and out of traffic on a main road – being all white she had damaged ears as a result of sun burn. We had part of her ears removed to prevent the spread of the cancer. She was successfully homed to a family without children.
Gracie and Amelie
– a pair of very feral kittens rescued. Sadly we were not able to catch their mum. They remained very feral for several months but eventually settled down.
Maddie
– was living in a garden and was being fed by a couple. She had already had one litter, of which only 1 survived. The couple were moving and were concerned about her safety as she was pregnant. We trapped her and kept her safe until she had her six kittens. We rehomed four of the kittens and kept Maddie and 2 kittens.
Darcy
– was rescued from a temporary accommodation block where she had been abandoned. A pretty all black girl, she was rehomed.
Billie Rose and Maud
– 2 sisters who were left dumped, both very nervous. They were successfully homes.
Fayna and Tieree
– sisters rescued from a beach. Both are happy in their forever home.
Fiya and Bunty
– found as tiny kittens in a building that was being developed. They had to be hand reared as we could not find their mum. Both were successfully rehomed.
Mollie
– was kept in a garage for 2 years. Her crime – she widdled on a rug. Mollie lost the fur on her ears and her stomach as a result of sleeping on concrete. She was treated and successfully rehomed
We have a number of cats who will need to live with us longer term as they have special needs and as a result lots of vets bills!
TWINKLE IN THE REST OF THE UK
Colleagues in the west midlands are actively involved in the spaying and neutering of cats and in a small number of cases rehoming them.
Colleagues in Oldham replicate the work being done in Sheffield and also do a limited number of spaying and neutering.
Colleagues in Scotland – do some rehoming work and also provide forever homes to cats who will struggle to get permanent homes.
A limited amount of rescue and rehoming work is also completed in outer London.
---
Well its only Tuesday and so far we've taken 6 cats to the vets
. Today we had a call about this little cat. We picked him up from the Barceló Hotel in Caleta after concerned holiday makers found him. He is not a regular cat from this area. He is thin, very dehydrated and has a least 1 air rifle pellet in his neck. He's still in the vets on a drip, were making x-rays to see if he has more. He is unneutered and doesn't have a microchip. He is friendly, it's so sad that he's been shot at and either abandoned or got himself to a safer place from where he was.
23 September.
---
We received a call from one of the hotels in Caleta to ask for our help with a very sick cat that had been seen by some clients. We went in search for the cat, all we knew was that it has a problem with its skin & ears and had trouble walki
...
ng. When we got to the hotel it was midday and very hot and we were unable to find the cat. Luckily we meet holiday maker Chris and she had seen the cat and confirmed how sick it was. Unable to find the cat we left our number with Chris and the next day she phoned to let us know she had found it. We went and picked the cat up and took her straight to the vets. Her skin was in a terrible state, she had a condition called Sarna (Mange), this is a microscopic parasite that burrows deep into the skin as it feeds and lays its eggs. If caught early it this condition can be treated with medication, bathing and creams but sadly this was not the case with this little girl. She was heavily infested, the reason she kept loosing her balance was because the mites had gone deep into her ears. Her underbelly was incredibly raw, she was clearly in pain. She was so gentle it was heart-breaking when we had to put her to sleep but not before she had a much welcomed meal of chicken and a big drink. She suffers no more.
---
Penelope, Dexter and Tinker all looking for good homes. Plus Shadow our latest cat.
They are all neutered and fully vaccinated against FeLV/FIV. Penelope was blood tested to check for FIV/FeLV and thankfully she was negative. She is very friendly and great with other cats. She is also rabies vaccinated and micrchipped and ready to fly to any where for a loving home.We would have no problem keeping her with us in Fuerteventura but the strong sun would be too much for a pale white skin. When we first took her in, her ears had been damaged buy the sun and they had to be removed but it has made no differance to her and she is a very happy girl that loves a cuddle. She has done so well to bring up her 8 little kittens, she really does deserve a chance. Please email twinkletrust@aol.com and make Penelopes dreams come true.
---
Sick, Matted and Starving
.
This poor cat was found in Neuvo Horizontie, Neil and Zoe saw she needed help and took her in, unsure what do to they asked for help. Later the same day we went and picked the cat up and took her to the vets. Well where do I start...... both her eyes are infected, her right eye has an ulcer, her fur was so matted and full of twigs, dirt & nasty sharp thorns, once her face was cleaned up we could see under all the filth her skin is red raw. Around her bottom the fur was so matted she could not pass poo. The vet had to cut this lump of poo and fur off to take her temperature and immediately she began to pass faeces and to finish off she has bad gingivitis and lots of plaque. Once the vet had given her injections for pain and antibiotics, they set about shaving her because there was no way she could be groomed. For the next 2 weeks, she needs 2 types of eye medication up to 4 times a day, special cream applied to all her raw skin which was under all the matted fur and in 2 weeks time, when she is stronger she will need a full dental. At the moment she weighs just 2 kilos. We're very hopeful that in time she will feel and look much better.
23/09
Update: this little girl is doing much better, still on lots of medication but feeling so much better.
---
We have so many cats and kittens in our care at the moment that its affecting what decisions we have to make when we go out on emergency calls. Last week we had to pay the vets to keep 'Monti' in the clinic for 3 nights because he needed lo
oking after and we have no space. We can't afford to keep doing this, we are worryingly low on funds, our only funding comes from public donations, we are all unpaid volunteers, we are not a sanctuary but if we have space we can look after a kitten or cat until its better. Times are desperate. We have many more cats and kittens than shown here, all looking for help.
Monti the cat - He's the "Bear Grylls" of the cat world.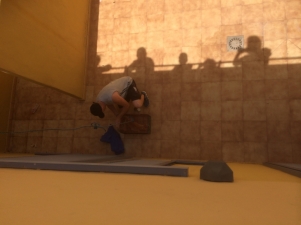 Monti the cat "trapped and starving" - We received a call about a cat that had been heard crying for 2 1/2 weeks! This poor cat had got himself down into a patio which had walls of at least 12 feet high. He had no way of getting out. Very dehydrated and starving, he had been getting a few drops of water from the plumbing from the washing machine in the patio and eating lizards and bugs. Thanks to volunteer Chris, who dropped down into the patio to rescue him (we had no ladders long enough), within minutes of getting Monti in the basket we were in the vets for emergency treatment.
This pretty little girl (only about 1 year old) appeared in our garden on Wednesday, within a few hours we discovered she was having a miscarriage. We rushed her straight to the vets, her kittens could not be saved as they were not fully developed. She was x-rayed to check for any more kittens but there were none, she was given fluids and antibiotics because it was an infection in her womb that had caused the miscarriage. She is recovering well. It so sad to think this sort of thing must happen often when these poor homeless cats are unneutered.
---
This is Sophie. All her life she has lived at Castillo Beach in Caleta. She has provided cuddles to many holiday-makers over the last 10 years. Recently we were told about her swollen and injured foot. Yesterday we collected her and today took her to the vets. The vet had to trim off the thick extended claw and clean up her wound. She is on a course of antibiotics and pain relief medicine. We have noticed that she drinks a lot of water, so on her review at the vets in 1 weeks time, will need to have her blood tested to check her kidneys etc are OK. Sophie is a very sweet natured cat and at least 11 years old. This is a super age for a 'complex' (homeless cat). It's wonderful for us to see cats that we neutered over a decade ago, still alive and even though she may have some renal problems she is doing great. If she needs a place to stay for her Autumn years we will keep her with us and she can join all our other Twinkle fluffs.
25 August - A little update on Sophie, this morning we took her to the vets for an operation on her foot. the vet will have to remove the claw and possibly some bone. Its expected she will need to be on pain medication and antibiotcs for some time.
29 September - The vet has received the results of a test made on some of the damaged tissue on Sophie's foot and the bad news is, it was a cancerious tumour. We are hoping that the vet managed to remove all the tumour and it won't grow back.
---
30th July we received a call about little 'Ralf'. In the middle of nowhere there are some large rubbish bins, the nearest houses are 2 km away, but these bins are used every day and emptied every night. At the bottom of the bin hiding in the corner with rubbish bags covering him we saw curled up this very sad sight. He had been spotted in the morning and was still there at 5pm (now covered in rubbish bags). Knowing the rubbish truck would be coming along in less than 2 hours we rushed to get to the bins before the bins are lifted and empted into the crushing jaws of the disposal truck. With the help of the man that had spotted Ralf and a pair of step's we climbed into the bin threw out some of the bin bags and picked up this adorable kitten, he purred his heart-out as soon as he was picked up.
After climbing out of the bins we could see that not only was Ralf incredibly skinny, covered in ticks and fleas he also has an injury to his face that we see too often. It's a from being thrown out of a speeding car, his lower jaw has been de-gloved (the skin has been scrapped away from the jaw) and he has a big hole in his top lip.
We rushed Ralf to the vets, where he was given emergency treatment. He has chunks of skin missing from his top lip and lower jaw and the vet says at the moment surgery is not an option.
Ralf eats with no difficulty and is already looking much better. He gives us non-stop cuddles and purrs, even if you just look at him he pads away with his front feet and breaks into a very big purr. He is one of the happiest, friendliest little kittens we have rescued. It's so sad that some people can treat any animal with such a lack of compassion and be so cruel.
A little update on Ralf (11 August)
Yesterday little Ralf had to go back to the vets because he was shaking his head and we were worried it maybe due to the trauma to his head. On his first emergency visit to the vets amongst other things he had his ears cleaned because they were full of red mites, these look the same as ticks but are more dangerous. The red mites, fleas etc. have been killed off by the vets treatment but after another examination yesterday the vet thinks he needs further treatment for standard ear mites, Ralf is now on a 1 week course of new medication to treat any mites in his ears and he should make a fully recovery. Ear mites sound like a minor ailment but many years ago 'Twinkle' our little black cat that was responsible for us starting our charity died from ears mites after she was not treated properly by the vets or staff in the quarantine kennels where she had to spend 6 long, painful months. Twinkle died from meningitis when the mites burrowed deep into her ears and brain. So please if your in doubt seek medical veterinary advise. We have some wonderful news - Ralf is now named Max and has been adopted by friends and volunteers of Twinkle, George and Janet. They have renamed him to Max and love him to bits, when we pulled him from the bin he was only 725grams and now he is 1kg, Max is doing really well.
23 September- Latest photo if Ralf (now named Max). Thanks to Janet and George who took Ralf in to look after him and then adopted him, he is doing great. His mouth has healed and he is one happy little boy as you can see his latest photo.
---
We would like to thank everyone for their patience, but we have been working on a newsletter and became so busy with the latest campaign that it was delayed.
Please click below to read the newsletter.
---
We have just carried out a large neutering campaign. 203 cats and kittens were admitted at the vets for neutering or treatment. Whilst out catching we came across many sick or unsafe cats and kittens that we have taken in and now we need help urgently to find new loving forever homes. We have many cats and kittens that deserve a chance of happiness.
Here is a little story by Laurance, one of the kittens we picked up during our campaign.
Hi I'm Laurence. I was born at the bins in Playa Blanca, along with two brothers and a sister.
Our Mum tried really hard to look after us all, but we were always hungry and having to hide from people and the nasty rubbish trucks that come every night. One day I got hurt at the bins while trying to find food. All I remember is waking up in pain and not being able to use my back legs properly. My Mum and siblings tried hard to protect me from all the dangers at the bins. We had to stay there because it was our only source of food.
Then one day a kind lady from Twinkle came and picked us all up. She took us to the Vets where Mum was neutered, and we were all treated for fleas and worms and given lots of lovely food. The Twinkle people could see that I couldn't use my back legs so they looked after me with lots of lovely food and cuddles and a few days later took me back to the Vet for an x-ray. The results of the x-ray showed Iv'e got a break at the top of my femur (thigh bone).
Because of this I'm unbale to run properly to get away from danger and the Twinkle people decided that it wasn't safe for me to go back to the bins in case a dog chased me or nasty people tried to harm me again.
I have now moved into a lovely big pen with another lad - he's white and has cancerous ears so can't go back out either. We are enjoying having fun together (causing havoc I have heard the Twinkle people say) along with scrummy food and lots of cuddles. Although it is lovely here, I don't want to spend the rest of my life here and am hoping that someone will think I am worth giving a forever home to. You can see from my photos how beautiful I am. I am a very laid-back and happy lad. I am around 4 months old and have lots of love to give. Can you offer me a home?
More of our rescued animals. Place your curser over the photo for more details.
These photos are just a handful of some of the fluffs we need to find good homes for.Please contact us on 0034659598719 or twinkletrust@aol.com if you can help save a life.
---
Some of Twinkle's Volunteers in Action
---
---
I'm "Biscuit".
Twinkle saw me when they were replenishing one of their cat cafes. I had a very runny nose, a high temperature and my eyes were streaming because I've got the 'flu' and I was feeling really sick. During Last December's neutering campaign Twinkle castrated me, Tracey who was helping on the neutering campaign looked after me until a man promised to take me home and look after me, but for some reason he took me to Caleta de Fuste and left me there. I knew if I waited long enough the Twinklers would find me and take me to the vets. I had lots of test's and everything was OK. I'm now feeling much better and would love a forever family of my own.
---
Cat Cafes – Twinkle has 17 cafes in the resort of Caleta de Fuste. This means the homeless cats have some where to eat and have fresh water. Many are based in the grounds of hotels that work with Twinkle, the cafes help not only the cats but the hotels, it means the cats don't go looking into people's holiday accommodation for food. We need 70 kilos of dry food every week to keep the cat cafes stocked up. The cafes are cared for by kind volunteers that live in Fuerteventura, some cafes need maintaining once a week, others need attending to 3 times a week, depending on the number of cats that rely on the café. We are always in need of volunteers to help look after a cat café.
The work we do is incredibly hard , both emotionally and physically, although we were all exhausted the sense of purpose, achievement and team work kept our sprits high.
Below are just a few of the cats that we have been able to help in the last 12 months. Cats in for neutering or treatment and TLC.
Jan 2014
---
Donations can be made via our [Donate page].
If you live in Fuerteventura or Europe and could help Twinkle with a donation you can make a regular donation or a one-off amount to the Twinkle account detailed here.
Twinkles Bank Details: Account 0081-0695-57-0001158319
IBAN : ES16 0081 0695 5700 0115 8319 /BIC BSAB ESBB
---
After three years of waiting Chica has finaly found her forever home and what a great home it is. We had almost given up for Chica as no one had called or mailed asking to meet her until 10 days ago we had a call from Marion Glover Leper asking if Chica had found her home, a home check was done and it was obvious straight away that this was the home for Chica. Chica went to her new home on Tuesday last week and has blossomed so much since, even deciding that staying in for a while to become familiar with her new home was not to her liking so after 2 days she goes in and out at her leisure.
All of us at Twinkle would like to thank Marion and John for allowing Chica to become part of their family.
---
Caleta Harbour Cat Cafe
We use over 280 kilos to stock the Cafe's with food every month, as such we are always looking for volunteers to help with them, or welcome any donations to help keep them stocked.
---
Donating items to Twinkle in Fuerteventura.
We are really pleased that anyone who wishes to donate any items to Twinkle can now drop them off in Caleta De Fuste.
Fuerte Crystals have kindly said they are happy to accept items on our behalf at their shop which is located at Urbanización Costa de Antigua, 35610 Castillo Caleta de Fuste.
Any toys, bedding , treats or food would be most appreciated, at the moment they are only able to accept smaller items, for larger items please contact us and we will arange collection.
We frequently have small items that need to travel to Fuerte, if you have a couple of kilos baggage allowance free and would be happy to drop them off at Fuerte Crystal please contact us.