Donate to Twinkle Trust by clicking on the DONATE button.
---
News and Events
If your looking for a good day out next Saturday 2 June, then why not come along to the Reigate Community Festival. We will be having a stand at the event with Info, gifts, toys and much more.
Also Laura from the Groom room at Whiskas n Paws Dorking will be with us offering advice claw clipping and so much more. We look forward to seeing you.
http://community.petsathome.com/stores/dorking/tab/groom-room/
~~~~~~~~~~~~~~~~~~~~~~~~~~~~~~~~~
Home wanted for UK cat
Treacle is a very loving young lady who has become unwilling to venture outside at her current home, she now prefers to sit indoors and watch through the window.
She loves cuddles and attention and would love to find a new home with someone who could help her trust the outside world again.
Treacle is 7 years old neutered and in good health.
She currently lives in Surrey, could someone have that special home for her, if so please contact Alun on twinkletrust@btinternet.com
Thank you
~~~~~~~~~~~~~~~~~~~~~~~~~~~~~~~~~~~~~~~~~~~
We have just finished a week of neutering, this was going to be a small scale week with us not doing the usual quantity, but we should have known that would not happen. The trouble is that puts what little remaining funds we had at an all time low, so here's the first look at some of last weeks efforts.
~~~~~~~~~~~~~~~~~
We caught this boy recently for neutering, but he was already done, he has no microchip. and he was living rough on waste ground with 18 others but he is BLIND! He is adorable, really friendly and cuddly and would to be in a safe and loving home. Help! Message us please.
Since spending time with us it appears he is not completly blind and is learning to enjoy a life of pampering
~~~~~~~~~~~~~~~~~~~~~~~~~~~~~~~~~~~~~~~~~~~~~~~~~~~~
Meg was hit by a car a week ago but managed to get back to her babies that she had given birth to in the bushes. We have taken her to the vets, luckily she only has a damaged knee that should heal with lots of rest and care. Her kittens were very sick when we found them, they all had eye infections just because of the harsh environment they were born in, but now they are doing fantastic. They will all need homes, please contact us if you could help.
~~~~~~~~~~~~~~~~~~~~~~~~~~~~~~~~~~~~~
Hanna was found this week when we were catching feral cats for neutering. All her kittens had terrible eye infections, one kitten was so sick she had to be put to sleep. The 4 surviving kittens are only about 2 weeks old, it's incredible how much they have improved since we rescued them only 6 days ago. Please contact us if you can offer a safe, loving home to any of our rescued cats and kittens. We have so many we're full up
~~~~~~~~~~~~~~~~~~~~~~~~~~~~~~~~~~~~~~~~~~~~~~~~~~
Little "Amazing Grace" was found alone near the airport and was very dehydrated and starving. After being checked over by the vets, treated against fleas and worms and given plenty of good food and cuddles she looks like a different kitten to the one we picked up.
~~~~~~~~~~~~~~~~~~~~~~~~~~~~~~~~~~~~~~~~
Thank you to International Animal Rescue
After hearing how desperately short of funds we are and in need of some medication, International Animal Rescue have very generously donated some flea and worm treatment along with some oral and eye antibiotics. I can't describe how grateful we are for all of this, it's really important we keep on top of the basic needs for our 70 rescue cats and with the weather really hotting up the flea medication is vital.
Thank you very much IAR.
~~~~~~~~~~~~~~~~~~~~~~~~~~~~~~~~
This is Rubio he normally lives on the streets but he's suffering from a nasty skin allergy. He's being fostered thanks to Elena. We have paid for him to be castrated and blood tested and some of his medication. Please- We need help with our vets bills and a new home for Rubio.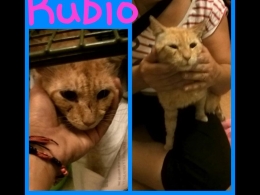 ~~~~~~~~~~~~~~~~~~~~~~~~~~~~~~~~~~~~~~~~~~~~~~~~~~~~~~~~~~
A visit to Jenny is never uneventfull, After a call from a concerned worker it was off to an area near Rosario where it was said there were 4 kittens in a builders yard being fed by their mum who only came in the evening when it was quiet, after a couple of hours we had caught 3 of the kittens, one needed the vets quite quickly as its eye was stuck shut with gunge, then shortly after we caught a fourth, whilst looking around we saw two more appear but then hide away, a trap was set and by morning two more were caught and finally the mother entered the trap as well, they all needed vets treatment for the masses of fleas that were covering them.
We will need help to look after this little family as they are so you, so if you could help please send us a message.
Update........
All the kits and mum have now been caught, so will receive treatment and have a great chance of a brighter future.
~~~~~~~~~~~~~~~~~~~~~~~~~~~~~~~~~~
Update........Now in a wonderful home, thank you to Gaia, Marco and their daughter
Urgent, pulled unharmed from inside the bonnet of a car this morning. Being looked after by a holiday maker but they leave on Saturday. NEEDS A HOME URGENTLY. Please leave a PM on our facebook page or send a message via text or WhatsApp to me on 659598719.
~~~~~~~~~~~~~~~~~~~~~~~~~~~~~~~~~~~~~~~~~~~~~
Update......sadly the cancer was worse than first thought, so he was gently put out of his suffering at the vets
It took until 4 AM yesterday morning to catch this darling cat. Already neutered and without a microchip but suffering terribly from skin cancer of the ears. It also looks worryingly like he has skin cancer on top of his head and within 1 eye.
~~~~~~~~~~~~~~~~~~~~~~~~~~~~~~~~~~~~~~~~~~~~~~~~~~~~~~~~~~~~~
Update......Despite the efforts by the vets, this little chap slipped away peacfully, RIP little one.
We received a message yesterday about this poor little kitten that was seen on Sunday at an empty villa. It was a bit of a nail biting drive up a small mountain to the villa but it was worth it. He was still in almost the same spot as first seen. He's very dehydrated, underweight, has cat flu and 2 abscesses, one under and behind his right eye and the other is below his chin. He's on a drip in the vet clinic receiving emergency treatment. We are doing everything we can to try and help this little man. The vet thinks he is about four months old, and he only weighs 99 grams.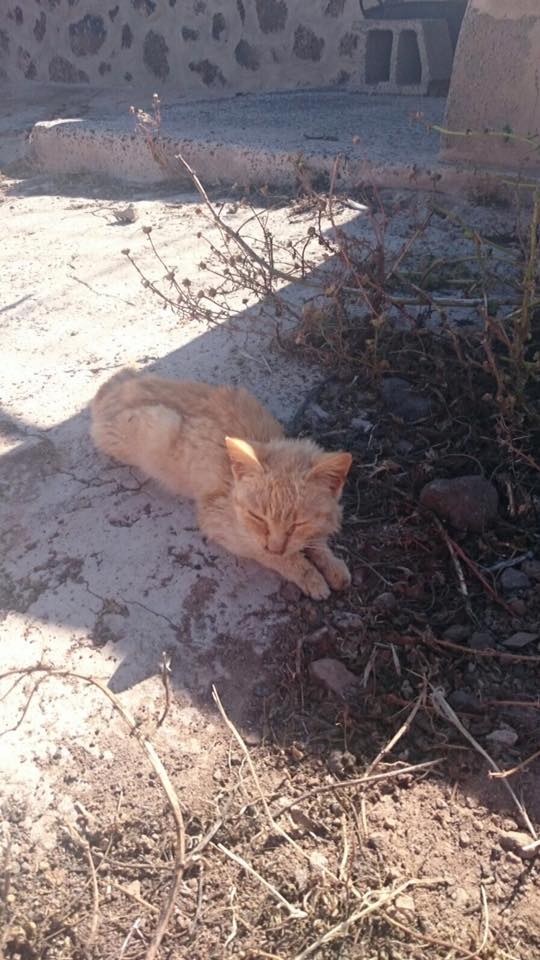 ~~~~~~~~~~~~~~~~~~~~~~~~~~~~~~~~~
Between us all we have achieved a huge amount.Thank you to everyone that has donated to Twinkle. Without your donations we could not have helped all of these cats. Since 1st February until 6th April we have,
Castrated 45 male cats.
Spayed 63 female cats.
Provided emergency treament to 72 cats.
Put to sleep 6 cats that were so sick or injured they could not be saved....
Hospitalised 6 cats.
3 cats were hospitalsed for 2-3 weeks in the vets!
Spayed 1 dog.
Rehomed 11 cats/kittens.

We still have large vet bills at 2 clinics, So until we can get the current vet bills paid we can't afford to carry on with emergency calls and must cut back the neutering work until we are finacially able to carry on.
In addition we have used over 600 kilos of dry food feeding the stray cats at our cat cafes.
Every single day we use 86 pouches of wet food, 3 big tins of food and 25 kilos of dry food, plus special diet food for the sick and elderly cats and this is just for the cats that live at the Twinkle house.
We know we keep asking, but if you could donate just a small amount it would mean so much to us and of course all the innocent cats that would benefit.
Or
Could you donate a prize or gift for us to have at our annual stand at the
Reigate community festival to be held the 2nd July.
if so please contact twinkletrust@btinternet.com
Thank you
~~~~~~~~~~~~~~~~~~~~~~~~~~~~~~~~~~~~~~~~~
Say hello again to Jacob, he is the cat that was inside a cars engine compartment when it was started up. He was badly injured and found in a watery ditch.
He's now had three operations to repair the big wound to his stomach and has spent many, many nights in the vet clinic. In fact the vets have fallen in love with him and changed his name to El Nino.
We would like to thank Bichos Veterinary clinic for only charging us for one operation and not charging us for his overnight stays.
El Nino has to go back to the vets tomorrow to have another check up and see if he's ready to have the stitches out. He still has a hole in the wound the size of a 50p piece but he's looking a lot better than before. We would love to find him safe loving home once he is better. He's really friendly and loves a cuddle.
~~~~~~~~~~~~~~~~~~~~~~~~~~~~~~~~~~~~~~~~~~~~~~~~~~~~
These 2 stunning cats need a new home because their owners circumstances have changed. The one with the black dot on the nose is a boy, the other one is a girl and she is spayed already. They are living in a flat and not used to the outside world so they could be rehomed somewhere without a garden, because this is what they are used to.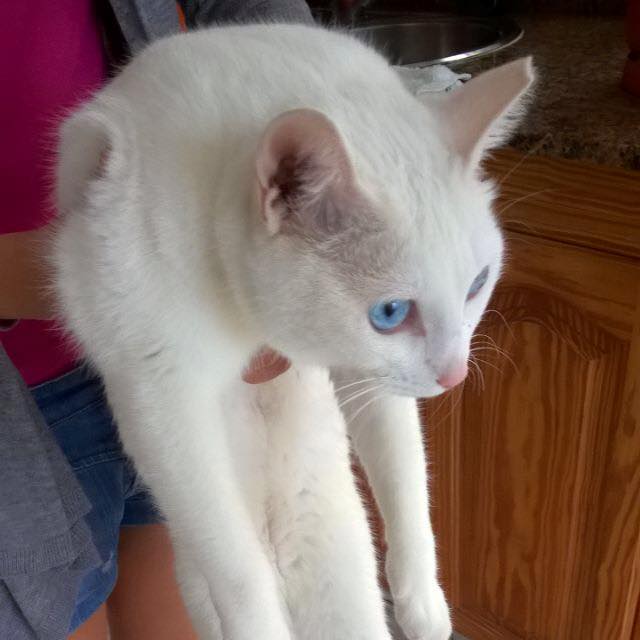 ~~~~~~~~~~~~~~~~~~~~~~~~~~~~~~~~~~~~~~~~~~~~~~~~~~~~~~~~
We found these two dogs running loose down a road in El Roque recently, they are mum and son, they had no chips or collars, but plenty of ticks and fleas which they have been treated for.
We have called them Peanut & Gracie,
We believe gracie is about 3 years and has now been spayed and Peanut about 4 months.
The time has come to find them a home and as they are so close we are looking for a home where they can be together, is that with you or maybe someone you know.
Please get in touch if you could help.
~~~~~~~~~~~~~~~~~~~~~~~~~~~~~~~~~~~~~~~~~~~~~~~~~~~~~~
This poor little cat was found in a ditch soaked in water with an injury to his stomach. We have had him treated at the vets and he was carrying a temperature of 40 and in a really bad way, since then he has been back twice, the last time he had the wound opened and investigated as the temperature was not going down, we will know more soon.
Update 12th March 2016
Our ginger rescue lad has now had 3 operations to clean up and repair the damage to his tissue and skin. We learnt that his wounds were caused when he took shelter inside a car engine during the heavy rains at the end of February, and when the unsuspecting driver started the car Jacob was injured and that's when he ran off and we later found him in a ditch, soaked and close to death. He must stay (again) in the vets over the weekend to ensure he improves. Our thanks to his foster mum for looking after him. We're all keeping our fingers crossed that he can keep strong and we can bring him to Twinkle and get him fit and happy.
~~~~~~~~~~~~~~~~~~~~~~~~~~~~~~~~~~~~~~~~~~~~~~~~~~~
We picked up this old Fella from Caleta de Fuste a few days ago after receiving a call about a cat with very bad skin, We took him directly to the vets and they kept him in overnight so they could do skin scrape tests in the morning to find out what is causing his issue.
The vet has receivied the results of the tests and confirmed he has a version of Mange that can be treated, but he must stay isolated from other cats, He will require an injection a week for several weeks.
He has been bloodtested for Fiv and Felv and those test are negative and he's been given the all clear for any other issues.
He is currently at the vets because we have nowhere to isolate him from other cats, so if anyone could help foster him during his treatment we will cover all expences.
it must be bad enough having the issue, but being at the vets as well!!!!
~~~~~~~~~~~~~~~~~~~~~~~~~~~~~~~~~~~~~~~~~~
This lovely elder man has lived at a smaller complex in Caleta, he developed tumours on his ears due to the intensity of the sun here, we took him to the vets where both ears were removed. He is doing really well and is such a lovely chap, since him being with us we have noticed he is deaf ( not so unusal for white cats).
We have a dream to find him a home to spend his Autumn years with a soft bed and cuddles, if that's with you please get in touch.
Gandolf as we called him has returned to his complex, he has been happy there for many years and he knows the area, plus the managment and the visitors that know him will keep us updated on his wellbeing.
~~~~~~~~~~~~~~~~~~~~~~~~~~~~~~~~~~~~~~~~~~~~~~~~~
On a brighter note these two kittens were brought in by Cat Gibson during the campaign along with another dozen cats and kittens.
We were delighted when they were offered a home and adopted by Enrique their new dad.
Within minutes of arriving at their new home they played till they fell asleep.
Thank you Enrique.........
~~~~~~~~~~~~~~~~~~~~~~~~~~~~~~~~~~~~~~~~~~~
The photo above was taken in December when he would come closer, but be uncertain, since then he has completley changed, he pesters for attention rolling on the floor begging to have his tummy rubbed.
This is Clarence (after the crossed eyed lion) Clarence was visiting the garden months ago, but was always lurking in the distance, In one of those inspired moments Andy was able to catch Clarence, So it was off to the vets and off with his bits, since then he has really mellowed and slowly every day he joins in a bit more.
~~~~~~~~~~~~~~~~~~~~~~~~~~~~~~~~~~~~~~~~~~~~~~~~~~~~~~
These two are called Minsam & Yintong, they were roaming in the front garden a while ago, Yintong has a slightly damaged eye, probably caused from flu, but that does not stop her in any way, they adore each other and are just so desperate to have a home of their own.
If there is a space in your home or heart, you know where to get hold of us.
~~~~~~~~~~~~~~~~~~~~~~~~~~~~~~~~~~~~~~~~~~~~~~~
Four weeks ago we took this young lad to the vets to be neutered after we found him in one of the hotels in Caleta, he was so sweet and adorable we couldn't bear to put him back because we just don't think he will cope very well. He loves nothing better than to snuggle up on you for cuddles, cuddles and more cuddles. He would love a new home. Anyone out there need a cuddle?
~~~~~~~~~~~~~~~~~~~~~~~~~~~~~~~~~~~~~~~~~~
Just a few of the gang waiting for us when we got home late yesterday evening. Doesn't matter what's going on in the world they need their supper and they need it on time.
As you can see even though we are not a sanctuary, we have cats in our care, these are cats that would struggle to survive in the big bad world, so until we can find those elusive forever homes we have no option but to keep them with us
~~~~~~~~~~~~~~~~~~~~~~~~~~~~~~~~~~~~~~~~~~~~~~~~~~~~~~
Alive for 24 hours of pure hell.
Today I took 3 tiny kittens to the vets, it was the saddest thing I have ever seen.
In our 20 years of helping strays we've seen blind kittens, cats with legs hanging off, cats with no nose or half a face missing, cats that have been shot six times, cats so neglected and matted with their own urine and faeces they've been unable to walk.The kittens I picked up today were only 24 hours old, they were all stuck together by the placenta which was like rotting meat because they had been lying in the red hot sun since yesterday. I think the mother must have died after she gave birth to the kittens.
The kittens were still alive when I found them, 1 was screaming it's heart out. they had ants going into their mouth then coming out of their nose and flies laying eggs in their stomachs, umbilical cords and the rotting placenta. they were being eaten alive.
Within 2 minutes of getting them in my car the tortie died. I got them to the vets within 6 minutes of finding them and the vet jumped us to the front of the queue. They could not be separated from each other because the placenta had dried and was rock hard and with the infestation of bugs they had become one pitiful "mass". They had to be put to sleep immediately.
I've seen many things but nothing as cruel as what nature had done to these tiny kittens. The brown lump in the photo is the dried up placenta, which smelt putrid. I couldn't even cuddle them or give them their first and last drink of milk. The other photos I had were just to upsetting. Horrible day
~~~~~~~~~~~~~~~~~~~~~~~~~~~~~~~~~~~~~~~~
How quickly 20 years passes, to remind us all of some of the memories here's a little montage, please click the link below
---
Cat Cafes – Twinkle has 17 cafes in the resort of Caleta de Fuste. This means the homeless cats have some where to eat and have fresh water. Many are based in the grounds of hotels that work with Twinkle, the cafes help not only the cats but the hotels, it means the cats don't go looking into people's holiday accommodation for food. We need 70 kilos of dry food every week to keep the cat cafes stocked up. The cafes are cared for by kind volunteers that live in Fuerteventura, some cafes need maintaining once a week, others need attending to 3 times a week, depending on the number of cats that rely on the café. We are always in need of volunteers to help look after a cat café.
Below are just a few of the cats that we have been able to help in the last 12 months. Cats in for neutering or treatment and TLC.
Jan 2014
---
Donations can be made via our [Donate page].
If you live in Fuerteventura or Europe and could help Twinkle with a donation you can make a regular donation or a one-off amount to the Twinkle account detailed here.
Twinkles Bank Details: Account 0081-0695-57-0001158319
IBAN : ES16 0081 0695 5700 0115 8319 /BIC BSAB ESBB
---
Caleta Harbour Cat Cafe
We use over 280 kilos to stock the Cafe's with food every month, as such we are always looking for volunteers to help with them, or welcome any donations to help keep them stocked.
---
Donating items to Twinkle in Fuerteventura.
We are really pleased that anyone who wishes to donate any items to Twinkle can drop them off in Caleta De Fuste.
"Browse" have kindly said they are happy to accept items on our behalf at their shop which is located at Urbanización Costa de Antigua, 35610 Castillo Caleta de Fuste.
Any toys, bedding , treats or food would be most appreciated, at the moment they are only able to accept smaller items, for larger items please contact us and we will arange collection.
We frequently have small items that need to travel to Fuerte, if you have a couple of kilos baggage allowance free and would be happy bring something out to Fuerteventura for us,please email us.