Donate to Twinkle Trust by clicking on the DONATE button.
---
News and Events
We are hopeing to receive our 2016 calendars very soon, if you are interested please keep an eye out here for further information.
~~~~~~~~~~~~~~~~~~~~~~~~~~~~~~~~~~~~~~~~~
These two young black kittens were found crying outside the house the other day, at first we only saw one of them then the other started crying as well, one is a boy and the other a girl, sadly one has a damaged eye which we will do what we can about, but it's early days.
We have called them Minsan & Yingtong, they must have beem handled as they are so friendly, please get in touch if you could help us find them a home together.
~~~~~~~~~~~~~~~~~~~~~~~~~~~~~~~~~
The black chap on the left with the fluffy tail turned up recently, when checked over we found a nasty abscess on the side of his face, he has been treated for this now and is on the road to recovery, He was found sitting in the space between the cat flap and the wall sheltering from the bad rain yesterday so he has been allowed to join the others in the house, thankfully he is really affectionate and follows Andy around.
~~~~~~~~~~~~~~~~~~~~~~~~~~~~~~~~~~~~~~~
A recent arrival, this sweet ginger boy was wandering about trying to see what was going on, here he is after being checked over, We think Hobnob sounds like a good name
~~~~~~~~~~~~~~~~~~~~~~~~~~~~~~~~~~~~~~~~~~
Binny & Bop came to us earlier this year and found a home, sadly they were not wanted after a very short time and were returned to us, at times like this it is normal for a home to be a very elusive thing, but Binny & Bop were offered a home by Loli and her partner and what a great home it has turned out to be, below is a video of them playing. and a photo lying together which is something they have always loved to do.
~~~~~~~~~~~~~~~~~~~~~~~~~~~~~~~~~~~~~~~~~~~~~~~
Dumped at our cat cafe last week, these four adorable little kittens are now weaned and doing really well, Thanks to Help Fuerteventura for fostering them on our behalf. They will be ready for adoption in 3 to 4 weeks. Please get in touch if you can offer a forever home as per our previous post.
~~~~~~~~~~~~~~~~~~~~~~~~~~~~~~~~~~~~~~~~~~~
Four weeks ago we took this young lad to the vets to be neutered after we found him in one of the hotels in Caleta, he was so sweet and adorable we couldn't bear to put him back because we just don't think he will cope very well. He loves nothing better than to snuggle up on you for cuddles, cuddles and more cuddles. He would love a new home. Anyone out there need a cuddle?
~~~~~~~~~~~~~~~~~~~~~~~~~~~~~~~~~~~~~~~~~~
For all of you that have emailed about this lovely old fella at the Barcelo Hotel. Today he had another antibiotic injection and the wound cleaned, which is what the brown colour on his neck is, we will check on him again on Saturday. The wound doesn't appear to be infected and it has gone down slightly but we still need to see more improvement. He is such a good patient and a really sweet old man.
~~~~~~~~~~~~~~~~~~~~~~~~~~~~~~~~~~~~~~~~~~~~~~
Just a few of the gang waiting for us when we got home late yesterday evening. Doesn't matter what's going on in the world they need their supper and they need it on time.
As you can see even though we are not a sanctuary, we have cats in our care, these are cats that would struggle to survive in the big bad world, so until we can find those elusive forever homes we have no option but to keep them with us
~~~~~~~~~~~~~~~~~~~~~~~~~~~~~~~~~~~~~~~~~~~~~~~~~~~~~~
Before the end of this year we will be running another stray cat neutering campaign. Every cat we neuter saves 100's of cats and kittens from being homeless, starved and sick with no hope of help. We neuter cats every virtualy every day of every week throughout the year (its non-stop) but some cats we can't catch without extra help.
Could you donate something, no matter how big or small. EVERY donation counts. The story below shows how important it is that we can help those in need.
Alive for 24 hours of pure hell.
Today I took 3 tiny kittens to the vets, it was the saddest thing I have ever seen.
In our 20 years of helping strays we've seen blind kittens, cats with legs hanging off, cats with no nose or half a face missing, cats that have been shot six times, cats so neglected and matted with their own urine and faeces they've been unable to walk.The kittens I picked up today were only 24 hours old, they were all stuck together by the placenta which was like rotting meat because they had been lying in the red hot sun since yesterday. I think the mother must have died after she gave birth to the kittens.
The kittens were still alive when I found them, 1 was screaming it's heart out. they had ants going into their mouth then coming out of their nose and flies laying eggs in their stomachs, umbilical cords and the rotting placenta. they were being eaten alive.
Within 2 minutes of getting them in my car the tortie died. I got them to the vets within 6 minutes of finding them and the vet jumped us to the front of the queue. They could not be separated from each other because the placenta had dried and was rock hard and with the infestation of bugs they had become one pitiful "mass". They had to be put to sleep immediately.
I've seen many things but nothing as cruel as what nature had done to these tiny kittens. The brown lump in the photo is the dried up placenta, which smelt putrid. I couldn't even cuddle them or give them their first and last drink of milk. The other photos I had were just to upsetting. Horrible day
~~~~~~~~~~~~~~~~~~~~~~~~~~~~~~~~~~~~~~~~~~~~~~~
These 4 adorable little kittens were abandoned at one of our cat cafes on Sunday, we discovered them yesterday when one of our volunteers called Cherry went to the cat cafe to replenish the food and water bowls. How can people just do this. We do have food at our cat cafes but these kittens are far too small to eat the cat biscuits and they're not even weaned and still need their mother. We took them to the vets immediately for a check up where they were treated for parasites and fleas, A huge thank you to Help Fuertevenetura for helping me out and fostering them. We're hoping they will do well and when they are eight weeks old will hopefully find them new homes.
~~~~~~~~~~~~~~~~~~~~~~~~~~~~~~~~~~~~~~~~
Found in El Matoral with a severely broken leg. she had a long surgery to attempt to repair the break, she's now got external pins and on lots of medication for her pain and to prevent infection because the bone had gone through her skin. It's going to be a long road to her recovery.
She was pretty wild but is already letting her foster mum's hand feed her. It's just incredible what animals endure and how their instinct to try and survive kicks in. At least she's off the streets and being cared for now.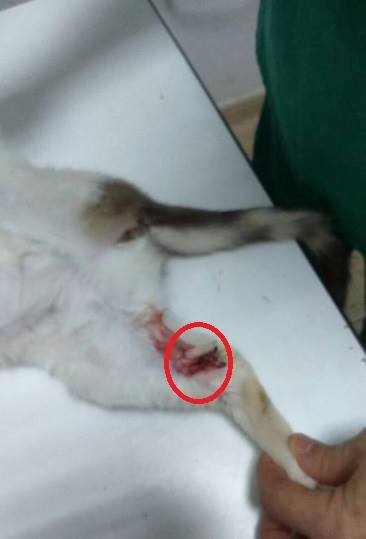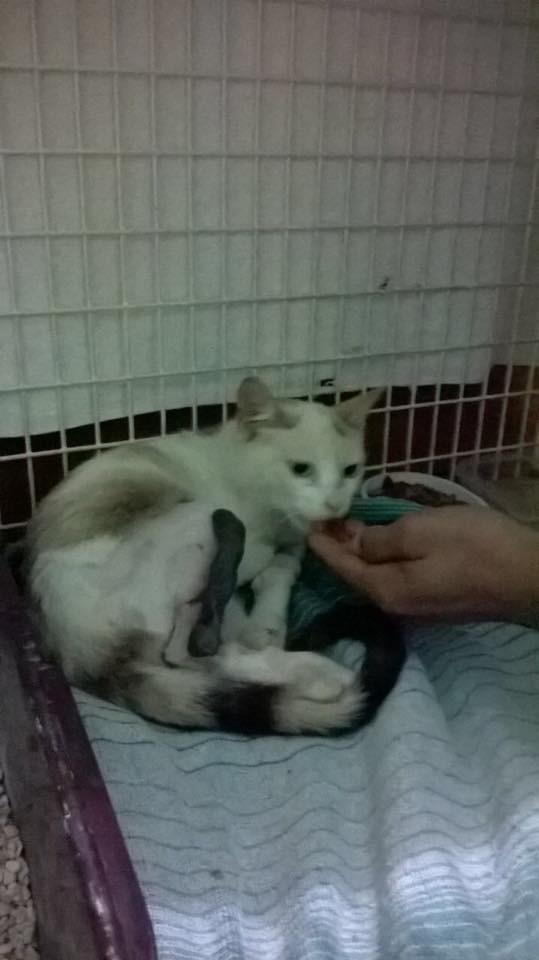 We have been inundated with the amount of cats that have required treatment for broken bones or needing quite major surgery, so much so that again we are feeling the presure of major vets bills, if you would like to help with a donation any way or of any amount please look for one of the donate buttons, or if you would rather, please contact us for other methods.
Thank you
Ireh was quite a wild girl when she first came in, but look at her now, she still has the pins in and wears a collar, but she looks so happy now.
It would be so good to find her a forever home so she can continue enjoying the more comfortable lifestyle she is becoming used to.
~~~~~~~~~~~~~~~~~~~~~~~~~~~~~~~~~~~~~~~~~~~~~~~~~~~
Please click on the link below to read Twinkle's latest newsletter
~~~~~~~~~~~~~~~~~~~~~
Last weekend we had our stand at the Reigate community festival in Surrey, the sun shone down us all day and we had a great responce from everyone, we had many people come to ask us about twinkle and it was so good to see all the supporters that came to see us and give us their support.
Although we had only planned to have an information stand Catherine Gibson came along with a great selection of items she had collected and ran a wonderful tombola, which went down well with visitors of all ages. and of course Catherine raised some much needed funds for Twinkle.
Thanks again to all those that came and made it a great day, it was good to see you all.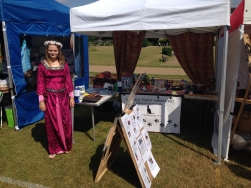 ~~~~~~~~~~~~~~~~~~~~~~~~~~~~~~~~~~~~~~~~
How quickly 20 years passes, to remind us all of some of the memories here's a little montage, please click the link below
~~~~~~~~~~~~~~~~~~~~~~~~~~~~~~~~~~~~~~~~~~~~~~~~~~~~~~~~~~~~
March 25th we carried out a large scale neutering campaign. With the assistance of vet's Aoife O'Sullivan from the UK and Javier Gonzales of Bichos veterinary clinic and wonderful UK vet nurses Donna and Kathryn, we managed to admit 173 cats and kittens during 5 days. Amongst those we treated was a cat that was found locked inside an empty house, she had been in the house for many days, and was suffering from dehydration and starvation. To add to this she had a nasty broken leg, the bone had pierced her leg and was sticking out. Because this was an old injury, we were lucky this poor little girl had not died from infection, the pain she must have been in is incredible. The leg had to be amputated and I'm pleased to say she was adopted and is making a full recovery. Prior to the volunteer vet and nurses coming over to help in Fuerteventura we have been neutering as many cats as we can afford to at Bichos Veterinary Clinic and another 45 were neutered in the weeks before the campaign. It was just a small team but it goes to show what amazing work can be achieved with dedication and compassion.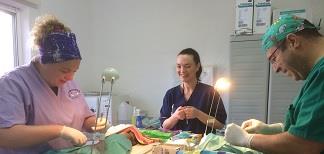 Aoife, Donna & Javier smiling, but hard at work operating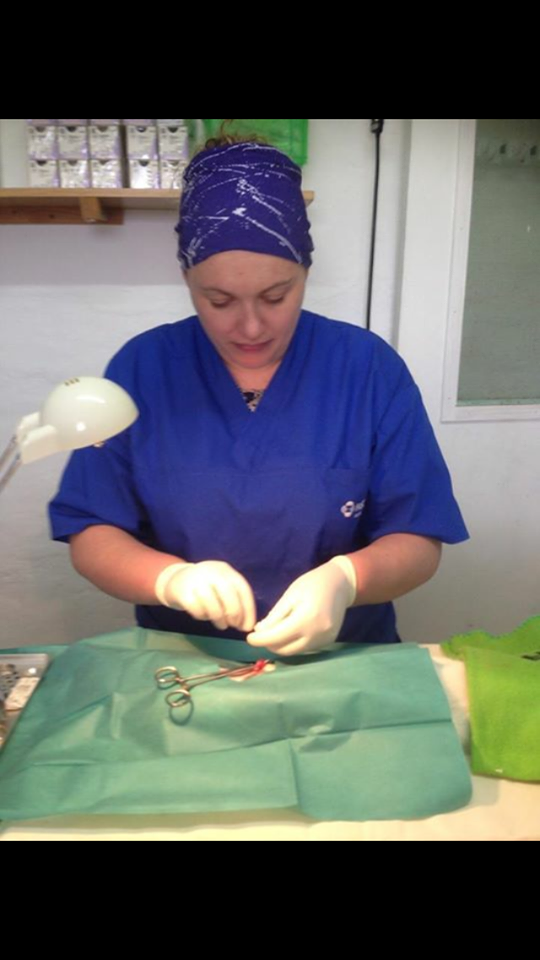 Also looking for homes are these adorable little fluffs
Donna the nurse is not currently up for adoption
~~~~~~~~~~~~~~~~~~~~~~~~~~~~~~~~~~~~
Two very cold days - fundraising at Christmas Fayres over the weekend.13 & 14 December 2014
We had everything on offer from cat and dog hampers, painted pebbles, knitted cats and kittens, Twinkle calendars and plants.
Many,many thanks to the volunteers for all their hard work and to everyone for the huge amount of great items, many were hand made and of course special thanks to Cath for getting this organised and up and running in aid of Twinkle.
---
" Sadly we have to announce that Biscuit finally succumed to his illness in June 2015, "
he will be so sadly missed by all that had the good fortune to meet him.
Rip Biscuit, xx
We've just had some sad news from the vets. Our little Biscuit has been diagnosed with Lymphoma (cancer) after a biopsy of one of his lymph-nodes. Ever since we have known him, he has suffered from 'cat-flu' symptoms and his glands have be
en swollen. Biscuit is such a happy little cat and loves to charge through the cat flap at 100 miles and hour and to play "knock everything off the table".
---
Some of the Twinkle's Volunteers in Action
---
Cat Cafes – Twinkle has 17 cafes in the resort of Caleta de Fuste. This means the homeless cats have some where to eat and have fresh water. Many are based in the grounds of hotels that work with Twinkle, the cafes help not only the cats but the hotels, it means the cats don't go looking into people's holiday accommodation for food. We need 70 kilos of dry food every week to keep the cat cafes stocked up. The cafes are cared for by kind volunteers that live in Fuerteventura, some cafes need maintaining once a week, others need attending to 3 times a week, depending on the number of cats that rely on the café. We are always in need of volunteers to help look after a cat café.
The work we do is incredibly hard , both emotionally and physically, although we were all exhausted the sense of purpose, achievement and team work kept our sprits high.
Below are just a few of the cats that we have been able to help in the last 12 months. Cats in for neutering or treatment and TLC.
Jan 2014
---
Donations can be made via our [Donate page].
If you live in Fuerteventura or Europe and could help Twinkle with a donation you can make a regular donation or a one-off amount to the Twinkle account detailed here.
Twinkles Bank Details: Account 0081-0695-57-0001158319
IBAN : ES16 0081 0695 5700 0115 8319 /BIC BSAB ESBB
---
Caleta Harbour Cat Cafe
We use over 280 kilos to stock the Cafe's with food every month, as such we are always looking for volunteers to help with them, or welcome any donations to help keep them stocked.
---
Donating items to Twinkle in Fuerteventura.
We are really pleased that anyone who wishes to donate any items to Twinkle can drop them off in Caleta De Fuste.
"Browse" have kindly said they are happy to accept items on our behalf at their shop which is located at Urbanización Costa de Antigua, 35610 Castillo Caleta de Fuste.
Any toys, bedding , treats or food would be most appreciated, at the moment they are only able to accept smaller items, for larger items please contact us and we will arange collection.
We frequently have small items that need to travel to Fuerte, if you have a couple of kilos baggage allowance free and would be happy bring something out to Fuerteventura for us,please email us.