Donate to Twinkle Trust by clicking on the DONATE button.
---
News and Events
Twinkle would like to wish all of our wonderful friends and supporters a very happy, healthy and prosperous 2017. We could not do what we do without the support from our supporters and volunteers.
Thank you all so much and here's to a great New Year


~~~~~~~~~~~~~~~~~~~~~~~~~~~~~~~~~~~~~~~~~~~~~~
2017 Calendars
We have received few extra calendars, they are in the UK, so anyone wanting one please click below.
Anyone in Fuerte who would like one please mail me on twinkletrust@outlook.com and I can bring them out on the 14th January
~~~~~~~~~~~~~~~~
We now have our 2017 calendars for sale, we have listed then on eBay as most of you liked it that way last year, please click on the calendar to be taken to the eBay listing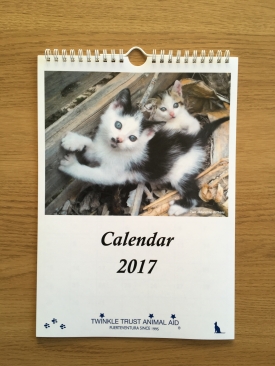 ~~~~~~~~~~~~~~~~~~~~~~~~~~~~~~~~~~~~
Wednesday morning this guy was picked up from the Elba Sara, Vanessa & Jo had contacted us saying he did not look to great on his feet, so once he appeared I picked him and it was obvious straight away why he didnt like walking much, as you can see his claws had grown so much they had curled into his pads, so off to the vets again where he was given the works.
It appears he is about 8 years old and still entire, despite that and his poor paws he is such a lovely guy and let us stroke him, although it's not something he's used to.
we are looking after him till his feet are better and we decide whats best for him.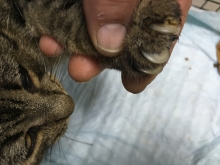 ~~~~~~~~~~~~~~~~~~~~~~~~~
Thanks go to Sue & Gordon for contacting and meeting me last week, they had seen this ginger lad at the Elba Carlotta and noticed he has a sore eye, so we took a trip to the vets on Monday morning for a check up, Thankfully he is ok, it appears he has had trauma to his eye and luckily not gotten an infection, it may never be perfec, but he's fine, he was treated for fleas and worms and off we went back to the hotel where we were greeted by his friend. Here they are having a gourmet breakfast to celebrate.
Thanks Guys
~~~~~~~~~~~~~~~~~~~~~~~~~~~~~~~~~~~~~~~~~~~~
It's taken 6 months but finally we were able to pick up this handsome lad and have him neutered. He's had a complete personality change, he used to be a bit of a beastie and now when I go to where he lives to Feed him and his friends, which is in the middle of nowhere, all he wants is a big fuss.
~~~~~~~~~~~~~~~~~~~~~~~~~~~~~~~~~~~
Thank you to Tom, Tina & Dan for fostering Mia and Mitzie ( the 2 sweetest Little girls that we found several weeks ago). They have a new family waiting to adopt them, so all being well they will join their forever family very soon.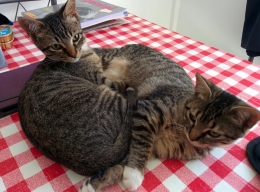 Thanks also to Paul Richarson for adopting them, we are sure there new names of Sugar & Spice will suit them well.
~~~~~~~~~~~~~~~~~~~~~~~~~~~~~~~~~~~~~~~~~~~~
Thank you so, so much Claire & Ziggy (the cat) for raising £121 by doing a car boot sale to raise money for Twinkle. It looks like it was a lovely sunny day, and some great items for sale. This money will go towards our vet bill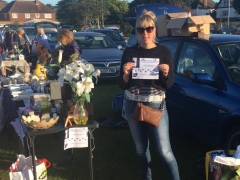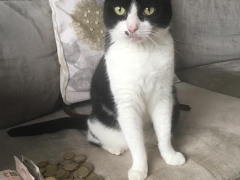 ~~~~~~~~~~~~~~~~~~~~~~~~~~~~~~~~~~~~~~~~~~~~~~
Brownie one of the cats that we took in during our campaign in June, is now officially free from the fungus infection that so many of our foster cats have had. He is such an adorable little man, because we are so busy we don't have time to give him the cuddles that he needs, and he's been getting a bit depressed. Thankfully he has a lovely foster home to go to tomorrow, while are still looking for his forever home. If anyone can give him the love and safe home environment that he deserves please get in touch via either email on our contact page. Although he is blind in one eye, he makes up for it with the one good eye and doesn't let his disability get in his way.
~~~~~~~~~~~~~~~~~~~~~~~~~~~~~~~~~~~~~~~~~~~~~~~~~~~
In Jenny's words,
I'm so sick and permanently tired by the stream of cruel cowards that dump animals as if they are garbage.
At 9 o'clock this morning I picked up these five baby kittens from the rubbish bins. "For crying out loud" they are just two weeks old! It's amazing that they stayed together and that we got there before the dustcarts came.
We are still completely full of cats and kittens and in lock down. Tonight these kittens are in my store room because I have nowhere else to put them.... They have a mum somewhere, who will probably now get mastitis because she will have a lot of milk and no kittens.
Even cats can feel the loss for their kittens when they are suddenly taken away, especially when they are only two weeks old and completely dependent on their mum.
The primary aim of our charity is to neuter as many homeless cats as we can afford, but we're struggling financially and can't help everyone. That said, every week we have cats neutered to prevent unwanted kittens from being born but it's never enough. We took these kittens to the vets for a check up, where they were also treated for fleas and parasites.
We've given them a nice bath and are hand feeding them and they look like new kitts. It would be great if someone could foster them or better still adopt. We have too many cats and kittens already to give them the time and attention they need. They are utterly cute and deserve a chance.
~~~~~~~~~~~~~~~~~~~~~~~~~~~~~~~~~~~~~~~~~~~~~~~
London Marathon 2017
Last year we were successful in obtaining a charity ballot entry into the Virgin London marathon, due to many reasons we were not able to use that place, but have carried it over till 2017 and Ryan Christie has delighted us by accepting the challenge not only to run the marathon, but raise funds for Twinkle.
Please take a look at his Fundraising page and see why taking up the challenge is so important to Ryan & Gill.
Our most recent event
Sunday 17th July we were at the Foal Farm country festival day, Foal farm have been hosting this event for many years and upon hearing our financial plight invited us to join them on the day with the hope of meeting friends new and old and of course hopfully raise some money.
Unlike our last event the sun came out along with loads of friendly people, we had a great time talking to those of you who came over for a chat and would like to thank all of you that purchased something and or donated, without out you we cannot survive.
~~~~~~~~~~~~~~~~~~~~~~~~~~~~~~~~~~~~~~~~~~~
Our recent supposed small scale campaign
We have just completed another week of neutering with volunteer help from both the UK and Fuerteventura, We almost cancelled the campaign because of a lack of money, but with so many cats and kittens desperate for help we went ahead.
This may sound like a crazy thing to do when we know our budget is pretty non existent, but when we get sent photos and messages containing photos and story's of how desperate the animals are it makes it impossible to ignore them.
We sterilised 108 females, 79 males, carried out one x-ray, made 3 leukaemia and Feline AIDs test and sadly had to put to sleep 4 very sick cats and 1 kitten.
With our already tight budget we were planning on restricting ourselves to just catching and helping 10 cats or kittens a day, but in the first day we had already picked up one mother cat that had been hit by a car that was trying to nurse her four kittens and another mother cat that was trying to look after her 5 very sick kittens, they were all suffering from the flu. Unfortunately one kitten was so severely ill that we had to have it put to sleep. Plus on day 1 we had caught 10 cats for neutering before it was even lunchtime.
Here a few photos of some of the cats and kittens we helped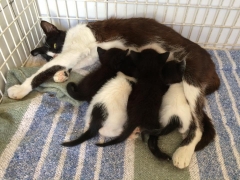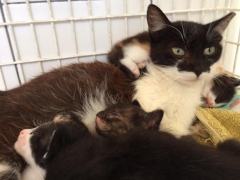 We now are completely full of cats and kittens that are looking for new safe loving homes and we are asking anyone that can make a donation towards our vet bill, medical bills and feeding costs to please contribute whatever you can to help us. WE ARE DESPERATE.
In the last three weeks we have rehomed 14 kittens, and continue to look after over 70 Twinkle cats that live with us. Some are garden cats and some are lucky ones that can live inside if they need special care, for example if they are elderly or vulnerable.
We use over 20 bags of cat litter every week, 80 pouches / tins of cat food every day and this doesn't include all the special dietary food that some need. In just the last seven days we have sterilised and taken to the vets an extra 15 cats that needed our help. Unless we get a magical pot of money to pay our bills, we are going to have to cut back with immediate effect the rescue and neutering work. We cannot continue with growing bills and no means of paying them, we have so many cats and kittens that already depend on us for their everyday survival.
~~~~~~~~~~~~~~~~~
~~~~~~~~~~~~~~~~~~~~~~~~~~~~~~~~~~~~~~~~~~~~~~~~~~~~
Meg was hit by a car a week ago but managed to get back to her babies that she had given birth to in the bushes. We have taken her to the vets, luckily she only has a damaged knee that should heal with lots of rest and care. Her kittens were very sick when we found them, they all had eye infections just because of the harsh environment they were born in, but now they are doing fantastic. They will all need homes, please contact us if you could help.
~~~~~~~~~~~~~~~~~~~~~~~~~~~~~~~~~~~~~
Hanna was found this week when we were catching feral cats for neutering. All her kittens had terrible eye infections, one kitten was so sick she had to be put to sleep. The 4 surviving kittens are only about 2 weeks old, it's incredible how much they have improved since we rescued them only 6 days ago. Please contact us if you can offer a safe, loving home to any of our rescued cats and kittens. We have so many we're full up
~~~~~~~~~~~~~~~~~~~~~~~~~~~~~~~~~~~~~~~~~~~~~~~~~~
A visit to Jenny is never uneventfull, After a call from a concerned worker it was off to an area near Rosario where it was said there were 4 kittens in a builders yard being fed by their mum who only came in the evening when it was quiet, after a couple of hours we had caught 3 of the kittens, one needed the vets quite quickly as its eye was stuck shut with gunge, then shortly after we caught a fourth, whilst looking around we saw two more appear but then hide away, a trap was set and by morning two more were caught and finally the mother entered the trap as well, they all needed vets treatment for the masses of fleas that were covering them.
We will need help to look after this little family as they are so young, so if you could help please send us a message.
Update........
All the kits and mum have now been caught, so will receive treatment and have a great chance of a brighter future.
~~~~~~~~~~~~~~~~~~~~~~~~~~~~~~~~~~~~~~~~~~~~~~~~~~~~~~~~~~~~~
Between us all we have achieved a huge amount.Thank you to everyone that has donated to Twinkle. Without your donations we could not have helped all of these cats. Since 1st February until 6th April we have,
Castrated 45 male cats.
Spayed 63 female cats.
Provided emergency treament to 72 cats.
Put to sleep 6 cats that were so sick or injured they could not be saved....
Hospitalised 6 cats.
3 cats were hospitalsed for 2-3 weeks in the vets!
Spayed 1 dog.
Rehomed 11 cats/kittens.

We still have large vet bills at 2 clinics, So until we can get the current vet bills paid we can't afford to carry on with emergency calls and must cut back the neutering work until we are finacially able to carry on.
In addition we have used over 600 kilos of dry food feeding the stray cats at our cat cafes.
Every single day we use 86 pouches of wet food, 3 big tins of food and 25 kilos of dry food, plus special diet food for the sick and elderly cats and this is just for the cats that live at the Twinkle house.
We know we keep asking, but if you could donate just a small amount it would mean so much to us and of course all the innocent cats that would benefit.
~~~~~~~~~~~~~~~~~~~~~~~~~~~~~~~~~~~~~~~~~~~~~~~~~~
Alive for 24 hours of pure hell.
Today I took 3 tiny kittens to the vets, it was the saddest thing I have ever seen.
In our 20 years of helping strays we've seen blind kittens, cats with legs hanging off, cats with no nose or half a face missing, cats that have been shot six times, cats so neglected and matted with their own urine and faeces they've been unable to walk.The kittens I picked up today were only 24 hours old, they were all stuck together by the placenta which was like rotting meat because they had been lying in the red hot sun since yesterday. I think the mother must have died after she gave birth to the kittens.
The kittens were still alive when I found them, 1 was screaming it's heart out. they had ants going into their mouth then coming out of their nose and flies laying eggs in their stomachs, umbilical cords and the rotting placenta. they were being eaten alive.
Within 2 minutes of getting them in my car the tortie died. I got them to the vets within 6 minutes of finding them and the vet jumped us to the front of the queue. They could not be separated from each other because the placenta had dried and was rock hard and with the infestation of bugs they had become one pitiful "mass". They had to be put to sleep immediately.
I've seen many things but nothing as cruel as what nature had done to these tiny kittens. The brown lump in the photo is the dried up placenta, which smelt putrid. I couldn't even cuddle them or give them their first and last drink of milk. The other photos I had were just to upsetting. Horrible day
~~~~~~~~~~~~~~~~~~~~~~~~~~~~~~~~~~~~~~~~
How quickly 20 years passes, to remind us all of some of the memories here's a little montage, please click the link below
---
Donations can be made via our [Donate page].
If you live in Fuerteventura or Europe and could help Twinkle with a donation you can make a regular donation or a one-off amount to the Twinkle account detailed here.
Twinkles Bank Details: Account 0081-0695-57-0001158319
IBAN : ES16 0081 0695 5700 0115 8319 /BIC BSAB ESBB
---
Caleta Harbour Cat Cafe
We use over 280 kilos to stock the Cafe's with food every month, as such we are always looking for volunteers to help with them, or welcome any donations to help keep them stocked.
---
Donating items to Twinkle in Fuerteventura.
We are really pleased that anyone who wishes to donate any items to Twinkle can drop them off in Caleta De Fuste.
"Browse" have kindly said they are happy to accept items on our behalf at their shop which is located at Urbanización Costa de Antigua, 35610 Castillo Caleta de Fuste.
Any toys, bedding , treats or food would be most appreciated, at the moment they are only able to accept smaller items, for larger items please contact us and we will arange collection.
We frequently have small items that need to travel to Fuerte, if you have a couple of kilos baggage allowance free and would be happy bring something out to Fuerteventura for us,please email us.