Donate to Twinkle Trust by clicking on the DONATE button.
---
News and Events
April the 23 Ryan Christie will be running his first marathon, the Virgin London Marathon he took on this challenge without a thought and is hoping to raise much needed funds for Twinkle. Ryan has been training very hard for this event and as he lives in Scotland has to endure some harsh weather to do it, so it would be nice if you could sponsor him to show your gratitude for his monumentous task.
If everyone who visited this page last month donated just £1 we could double Ryan's target
Click picture to go to Ryan's Virgin giving site
~~~~~~~~~~~~~~~~~~~~~~~~~~~~~~~~~~~~~~
This is a new guy who has arrived in our garden, He is sitting in one of the cat biscuit huts and not letting anyone else get to the food, luckily for the other cats there are other food huts for them to use.
~~~~~~~~~~~~~~~~~~~~~~~~~~~~~~~~~~~~~~~~~~~~~~~~~~~~~~~
Thanks to our friend Christina for helping, we were able to get this lovely old lady checked over by our vets. This cat lives in the grounds of one of the hotels and a very kind tourist got in touch to let us know she had a nasty wound under her neck.
The vet gave her a full checkover and medication to help the wound heal, plus we also treated her for fleas and worms.
A huge thank you to the very kind holiday maker that contacted us for covering her veterinary bill.
~~~~~~~~~~~~~~~~~~~~~~~~~~~~~~~~~~~~~~~~~~~~~~~~~
Bltzi update
Blitzi has has had her stiches out and is being fostered, we would really not put her back on the streets, so if you would consider adopting her please get in touch.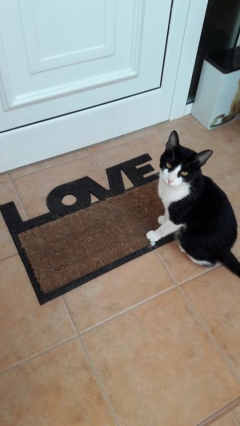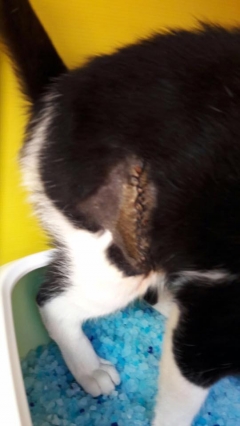 Blitzi,
We found her yesterday afternoon in Caleta de Fuste and took her straight to the vets for emergency treatment. We don't know what has caused the wound but it was very deep and infested with fly maggots. Our vet has cleaned the wound and put her on intravenous fluids because she was severely dehydrated and given her antibiotics and painkillers. We hope that Blitzi will make a full recovery.
Any donations towards her vet bill would be greatly appreciated.
~~~~~~~~~~~~~~~~~~~~~~~~~~~~~~~~~~~~~
Lulu update
Lulu has had her stiches out and she's doing great, her new mum & dad are so happy to have her join their family and Lulu has decided that she is going to stay as well.
Meet Lulu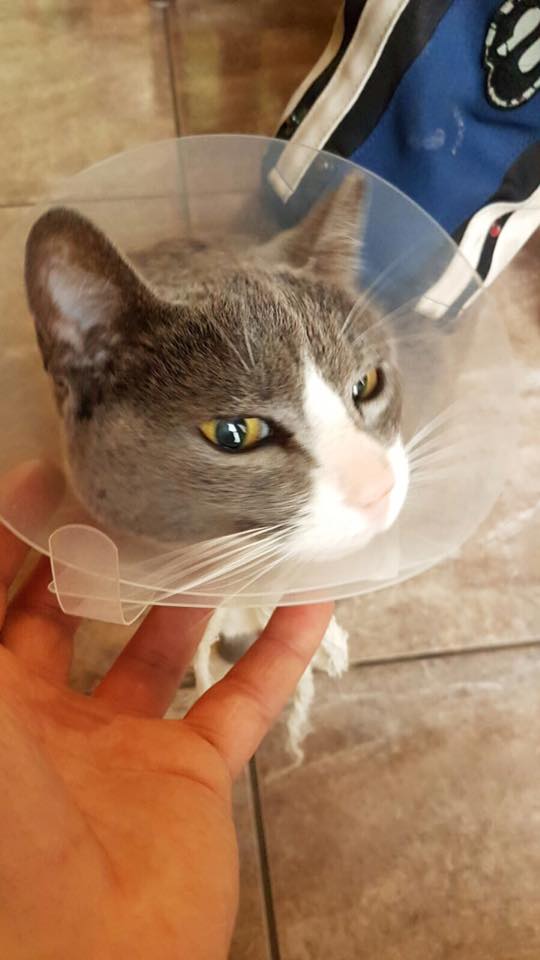 4 weeks ago we were called out to help a cat that someone noticed had blood in its urine. I took Lulu to the vets where she had an examination and blood test. Everything seemed normal, so she was given an antibiotic injection and I took her back to where she lives.
Thankfully she had decided to find herself a spot on a chair on the patio of some very nice Italian people and they monitored her for me. They phoned me last week to say Lulu is passing blood again. Needless to say Lulu returned to the vet again and this time they took X-rays too.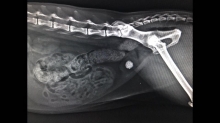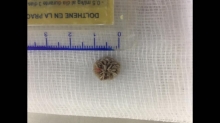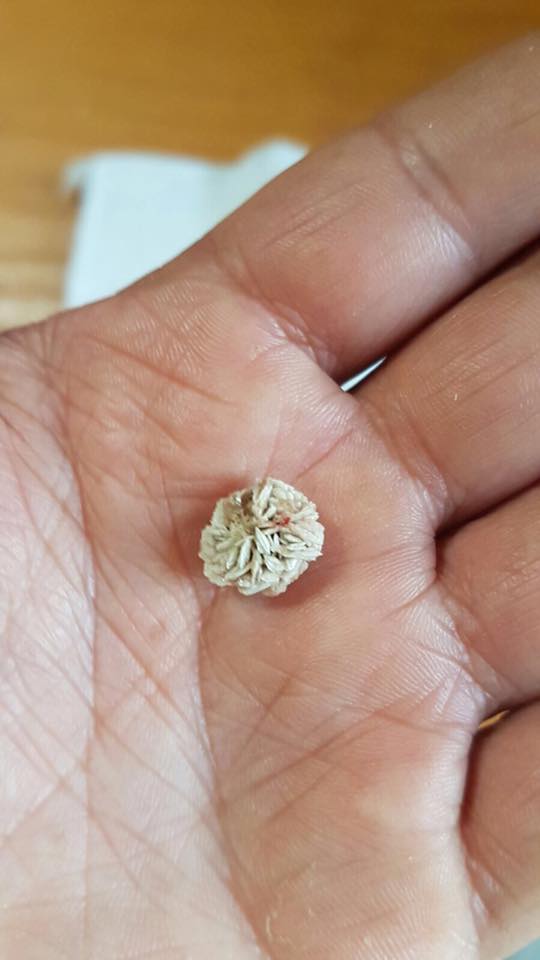 As you can see from the photos the vet discovered Lulu had quite a large kidney stone. The vet said this must have been causing her considerable pain. On Monday our vet operated and removed the stone and Lulu is recovering very well. I'm relieved and so thankful the nice family where Lulu was found has offered to look after her ( they've fallen in love with her). we're keeping my fingers crossed Lulu makes a full recovery.
~~~~~~~~~~~~~~~~~~~~~~~~~~~~~~~~~~~~~~~~~~~~~~~~~~
An update on Claude, Jan 2017
Since receiving treatment at the vets and having some pampering from Jenny & Andy, Claude has impoved so much, walking must be such a pleasure now none of his claws are growing into his pads.
Here he is enjoying some sunshine
Wednesday morning this guy was picked up from the Elba Sara, Vanessa & Jo had contacted us saying he did not look to great on his feet, so once he appeared I picked him and it was obvious straight away why he didnt like walking much, as you can see his claws had grown so much they had curled into his pads, so off to the vets again where he was given the works.
It appears he is about 8 years old and still entire, despite that and his poor paws he is such a lovely guy and let us stroke him, although it's not something he's used to.
we are looking after him till his feet are better and we decide whats best for him.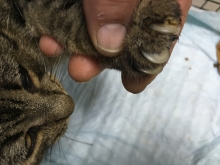 ~~~~~~~~~~~~~~~~~~~~~~~~~
Thanks go to Sue & Gordon for contacting and meeting me last week, they had seen this ginger lad at the Elba Carlotta and noticed he has a sore eye, so we took a trip to the vets on Monday morning for a check up, Thankfully he is ok, it appears he has had trauma to his eye and luckily not gotten an infection, it may never be perfec, but he's fine, he was treated for fleas and worms and off we went back to the hotel where we were greeted by his friend. Here they are having a gourmet breakfast to celebrate.
Thanks Guys
~~~~~~~~~~~~~~~~~~~~~~~~~~~~~~~~~~~~~~~~~~~~
It's taken 6 months but finally we were able to pick up this handsome lad and have him neutered. He's had a complete personality change, he used to be a bit of a beastie and now when I go to where he lives to Feed him and his friends, which is in the middle of nowhere, all he wants is a big fuss.
~~~~~~~~~~~~~~~~~~~~~~~~~~~~~~~~~~~
How quickly 20 years passes, to remind us all of some of the memories here's a little montage, please click the link below
---
Donations can be made via our [Donate page].
If you live in Fuerteventura or Europe and could help Twinkle with a donation you can make a regular donation or a one-off amount to the Twinkle account detailed here.
Twinkles Bank Details: Account 0081-0695-57-0001158319
IBAN : ES16 0081 0695 5700 0115 8319 /BIC BSAB ESBB